CURTA PAGE INDEX

Posters
o The Curta Poster
Owners Registry
o Curta Registry
Curt Herzstark
o Curt Herzstark
o Curt Herzstark Interview
Articles
o Curta Backup Article
o Miniature Machine
o Pocket Calculators
o The Curious History
Curta Simulators
o Olaf Veenstra's New YACS
o Sebastian Dammers' 3D CAD
o Onshape 3D Curta CAD
o 3D Printed Curta
o Curta WiKi
Technical
o Curta Stats
o Curta: Oldest
o Curta Date
o Curta Variations
o Curta Manual
o Curta Dimensions & Timing
o Curta Service Manual
o Curta Lubrication
o Curta Factory Drawings
o Curta Tools
o Curta Disassembly
o Curta Patents
o Jack's Curta Repair (US)
o Hans' Curta Repair (Europe)
o Romano's Curta Repair (Italy)
Collections
o Curta: The Ayen Collection
o Curta: The Pedrosa Collection
Curta Pictures
o Nice Curta Photos
o Curta: Ray Traced
Curta Demos
o Curta Demos
o Fake Demos
o Curta: Cut & Special
o The Curta 1A (new-7/16/22)
o Curta Prototypes
Curta Literature
o Curta Ads
o Curta Articles
o Curta News Letters
o Curta Literature
Curta Other
o Curta Pins
o Curta Museums & School
o Curta: Media
- Books
- Stamp
- Audio
- Video
Curta Links
o Curta Links

---
The poster arrived yesterday and it's terrific! You did a really great job on it and I'd think any Curta collector will want one too. What a great idea you had and thanks again so much for creating it. -- Greg -- Hillsboro, Oregon USA
The poster was received today in perfect condition. I thank you for your prompt and friendly service. I'll be framing it and hanging it in my den. -- Jim -- Beachwood, Ohio USA
Thanks! This will hang in my office at NASA. I have a Curta that I inherited from my great Uncle. -- Donald -- Huntsville, Alabama USA
I received it a couple of days ago... Thank you! It's wonderful! Now I just have to find a frame and it will hang in pride of place in my house. -- Cath -- Bedfordshire, United Kingdom
Your wonderful Curta poster arrived well yesterday. Thanks and best regards from Germany. -- Hermann -- Bayern, Germany
I have received the wonderful curta poster and I am inspired. I congratulate you too this excellent poster. -- Bernd -- Langerwehe-Schlich, Germany
I received the Curta poster and it is beautiful to my eyes. Even the sturdy custom mailing tube is a keeper. I have the poster displayed temporarily in a poster frame with a thin plastic cover until I have a permanent frame made for it. -- Robert -- Alpine, Texas USA
Hi Rick. Just a quick note to let you know the Curta poster arrived today. I am VERY pleased with it and plan to frame it for my office. Thanks again! -- Sam -- Ridgecrest, California USA
Rick - the Curta poster is absolutely fabulous, both the production quality and the concept. It's something NO Curta Home should be without. -- Skip Godfrey -- Billings Montana USA
Hi Rick, thanks a lot, I just received the poster! It is fantastic, really well done. Greetings from Madrid, Spain -- Angela
Speedy, secure shipment of an excellent product. Great gift! Thanks. A+++ -- Bruce -- Okemos, Michigan USA
The Curta poster is great. I'm very pleased. Sent quickly, too. Thanks! -- Paul -- Hartland, Michigan USA
Really beautiful item. Really fast ship. Thanks for a perfect transaction!! -- Kerry -- Sayre, Pennsylvania USA
Excellent item, fast ship and well packed A+++++ -- Brian -- Lawrence, Kansas USA
Thanks for the poster that I just bought. It is great. -- Mark -- Santa Clara, CA USA
Hi Rick, Received the poster today. BEAUTIFUL!!!! I left very positive feedback. Thanks again -- Tom -- Stoughton, Wisconsin USA
Hi Rick -- Beautiful job on the poster! 'twill be framed soon. -- Larry in Springboro, OH USA
The Curta poster is wonderful! Thanks so much. -- Pam - Tucson, AZ USA
Hi Rick, The poster arrived today it's fantastic! Absolutely beautiful! Thanks, Bob - Palo Alto, CA USA
Rick, Your work is outstanding! The poster is amazing; I've been studying it since it arrived. The detail and quality of the photos is excellent and the amount of data you have included is impressive. I noticed your name in the CURTA article in the January [2004] Scientific American (in the box on page 98 where the author, Cliff Stoll, thanks his elves) and now I know the source of some of the photos in the article since I visited your web site. -- Charlie -- Randallstown, MD USA
Rick, I got the poster and my engineer colleagues come to my office just to study it! Ray - North Bend, WA USA
---
AE - United Arab Emirates
AR - Argentina
AT - Austria
AU - Australia
BE - Belgium
BR - Brazil
CA - Canada
CH - Switzerland
CL - Chile
CN - China
CO - Colombia
CY - Cyprus
CZ - Czech Republic
DE - Germany

DK - Denmark
DM - Dominica
EC - Ecuador
ES - Spain
FI - Finland
FR - France
GB - United Kingdom
GP - Guadeloupe
GR - Greece
HK - Hong kong
HN - Honduras
HU - Hungary
IE - Ireland
IL - Israel

IN - India
IR - Iran
IT - Italy
JP - Japan
KR - South Korea
LI - Liechtenstein
LU - Luxembourg
MN - Mongolia
MX - Mexico
NE - Niger
NI - Nicaragua
NL - Netherlands
NO - Norway
NZ - New Zealand

PH - Philippines
PL - Poland
PR - Puerto Rico
PT - Portugal
RU - Russia
SA - Saudi Arabia
SE - Sweden
SG - Singapore
TR - Turkey
TW - Taiwan
US - United States
Every state in the US!


USA - APO,FPO,MP
---
---
---
Curt Herzstark

POB:
Vienna, Austria
DOB:
January 26, 1902
DOD:
October 27, 1988
Parents:
Samuel Jakob Herzstark [b.October 10, 1867 in Vienna d.October 24, 1937]
and Marie Herzstark [d.January 1956]
Grandfather:
Benjamin Herzstark from Danzig [Poland]
Fathers Business:
Austrian Calculating Machines Manufacturing Company, Vienna f.1905
Production was started at April 1, 1947.
In 1966 CONTINA AG was bought by the firm HILTI AG in Schaan.
Production was stopped on November 1970.
CURTAs were sold until early 1973.
There are +/- 80000 Curta I and +/- 60000 Curta II machines.
Curt Herzstark heard 150,000 to 160,000, maybe even more CURTAs were manufactured.
Type I

Type II

POB:
Mauren, Liechtenstein
Mauren, Liechtenstein
DOB:
April 1, 1947
1954
DOD:
November 1970
1954
Sold Till:
1973
1973
Cost:
$125
$165
Capacity:
8 x 6 x 11
11 x 8 x 15
Parts:
~600, 139 unique
~719
Weight:
8oz - 230g, 244g (measured)
12 1/2oz - 360g, 372g (measured)
Diameter:
2 1/16" / 2.08" - 53mm
2 9/16" / 2.56" - 65mm
Height:
3 3/8" / 3.35" - 85mm
3 5/8" / 3.54" - 90mm
Height w/crank:
4.21"/107mm
4.38"/111mm
Case:
4.73" x 2.40" - 120mm x 61mm
5.13" x 2.88" - 130mm x 73mm
Total (Curt estimate):
80,000
70,000
Total (factory record):
80,427
61,660
Total (pictorial evidence):
79,218
61,061
Total (estimated):
79,320
69,942
Oldest (pic):
000968
500002
Oldest (registerd):
2044
500084
Newest (pic):
80186
561063
Newest (registered:
80288
569944
S# on top start:
38210
N/A
S# on top end:
40469
N/A
Black body end (pic):
N/A
510348
Black body end (registerd):
N/A
510395
Gray body Start (pic):
N/A
510536
Gray body Start (registerd):
N/A
510633
Metal can end:
47753
532716
Plastic can start:
49815
532511
Notes: type I
1- 7178 then a few more pin sliders were produced from 9321-9620.

---
Type I's with Serial Numbers on top row of bottom plate (most Curta's have the serial number on the bottom row of the bottom plate).
37840 (does not have SN on top)
oldest picture: 38600
newest: 40469
41416 (does not have SN on top)
It appears that at least a little over 1800 units (out of 80,000) have the serial number on the top row of the bottom plate.

---
Production in 1949 about 300 to 400 per month; in 1952 about 1000 per month
In 1949, only 300 CURTAs were made each month.
By 1952, 1,000 CURTAs were made each month. Notes: type II
CUTRA 2s started at serial number 500,000.
The black type II case ended between 510348 and 510536.

---
The only way 540331 could be black would be if the bottom plate was switched or the calculator was assembled out of spare parts.


---
---
CURTA Production Date by Serial Number contains a discussion and two formulas to calculate approximately when your CURTA was made. Here's a great article from Daniel F F Ford with a more precise method to determine the Curta's age: When was your Curta made?
---
serial #
can
crank
body
top decimal
bottom decimal
clearing ring
entry levers
type I Curta
5
3
2185
metal
metal
black
5
3
metal
pin
5790
metal
metal
black
5
3
metal
pin
7278 (was 9897)
metal
metal
black
5
3
metal
rectangle
13836
metal
metal
black
5
3
metal
rectangle
15045
metal
metal
black
5
3
metal
rectangle
52335
metal
plastic
black
5
2
metal
rectangle
58562
metal
plastic
black
5
2
metal
rectangle
74738
plastic
plastic
black
5
2
plastic
rectangle
type II Curta
6
3
504094
metal
metal
black
6
5
metal
rectangle
526699
metal + leather
plastic
grey
6
3
metal
rectangle
541431
plastic
plastic
grey
6
3
metal
rectangle
557788
plastic
plastic
grey
6
3
plastic
rectangle
---
---
This is a wonderful document. A must have for all CURTA enthusiasts! -Rick-
Curt Herzstark, OH 140. Oral history interview by Erwin Tomash, 10 September 1987, Nendeln, Liechtenstein. Charles Babbage Institute, University of Minnesota, Minneapolis. Herzstark, an Austrian inventor and manufacturer of calculators, describes the development of the Austrian Calculating Machine Manufacturing Company (Rechenmaschinefabrik der Austria Erstanden Compagnie) and his subsequent work in the industry. The company, founded in Vienna by his father, Samuel Herzstark, in 1905, introduced the first electrically-driven calculator based on improved designs of the Thomas Arithmometer. Herzstark describes the disruption of the industry during World War I, his involvement with the company after the war, competition with American companies, and his first invention, a mechanical memory for holding subtotals, which appeared in 1928. Herzstark managed the company in 1930 and began work on his own design for a hand-held calculator. With the Anschluss of 1938, the company was again converted to war production, and produced custom gauges for German tanks. Herzstark, a Jew, was able to avoid arrest until 1943, when he was sent to Buchenwald concentration camp and worked as a technician. He recounts his arrest and internment, and how he completed the design of the CURTA hand-held calculator, a prototype of which was produced in Weimar, Germany, by Rheinmetallwerke at the end of the war. The Prince of Liechtenstein bought the design and the calculator was initially manufactured by the CURTA division of Contina AG of Liechtenstein. It was produced until 1972, when the electronic calculator forced it from the market. The transcript is available in English and German, and can also be downloaded from the CBI web site.
---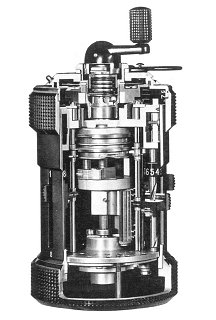 (Click here)
Curt Herzstark and his Pocket Calculator CURTA.
A good article from backup magazine 6/88 page 5-9 and 1/89 page 41-45 This artice was translated by Andries de Man -- Thanks Andries!
---
---
Gwen Bell
(published by Computer Museum History Center, Winter 1987)

---

(published by Scientific American, Jan 2004)
Also see Cliff's article from Reader's Digest: "Crunching Numbers - Jul 2005"
---
-Rick- Visit Olaf Veenstra's web page: YACS - Yet Another Curta Simulator
---
---
---
---
The CURTA Manual is a transcription of the CURTA Manual titled "Your CURTA Calculator" on one side and "The 4 arithmetical rules" on the other. Here's a real nice version of the original 'Your CURTA Calculator' guide from The Curta Mania site: Curta-User-Guide-Your-CURTA-Calculator-210810.pdf Here's another .pdf version by Daniel F F Ford: Your-CURTA-Calculator.pdf
---
---
---
---
---
-Rick-
---
---
---
---
patents. Also notice the rare type 1A prototype (notice the serial number... 100049).
---
---
The Helmut G. Ayen Collection Page is a set of 33 beautiful pictures that I was sent from Helmut Ayen in Hossingen, Germany. He not only owns a pair of type I and type II Curtas but also a pair of type I and type II Demo Curtas! Enjoy the pictures and as always, click on any picture to get a larger version.
---
The Carlos Alberto Pedrosa Collection Page is a set of 18 beautiful pictures that I was sent from Carlos in Ribeirao Preto, Brazil. He own a very old type I (3920) and one of the first type IIs (5000008). Enjoy the pictures and as always, click on any picture to get a larger version.
---
John Cherry. He was learning to use ray tracing software (POV-Ray 3.02). This is a picture of his Curta Type II (number 546692). The picture uses 16 Million colors. There are equivalent versions of POV-Ray for MS-DOS, Windows 95/98 & x86 NT, Macintosh, PowerPC, Amiga, SunOS, Linux (on Intel platforms) and generic Unix. Great Job John!
---
Richard Moor. He worked for Victor Comptometer, in Chicago, in the Research Center, as Prototype Model Maker from 1967-1976. There are 3 cut-out "windows" on the clearing plate, 3 long "windows" on the upper knurled ring, 4 long "windows" on the lower knurled ring, 6 "windows" on the bottom plate, and the middle portion of the unit is open. All of the Lettering, Numbers and Arrows have been left INTACT, and the Little "rechnende Mocca-Mühle" is still fully functional. The picture of a chrome Curta is from Stephan Weiss. According to Reinhold Rehbein, the history says that, a short time before the factory in Lichtenstein was closed, Curtas were made from different spare parts. Almost every old Curta factory machinist has made a variant.
---
---
---
Rick Furr (rfurr@vcalc.net)
---
---
CURTA Literature Listing is a list of all know CURTA literature compiled by Rick Furr and Skip Godfrey. Please send us copies of your literature if it is different so we can include it.
---
The CURTA Articles page is where you will find interesting articles written about the CURTA.
---
The CURTA E-Mails page is a set of interesting E-mails that were distributed by Erez Kaplan's Calculating Machines List server.
---
---
Notice: Apr 04, 2017 - I talked with Jack and he's over a year behind in repairing CURTAs.
I don't recommend you send him your Curtas until further notice. -Rick-
Here are a few questions I asked Jack: What do you charge to clean a Curta? Typically $115 to $280, depending on the type of Curta [Type I or Type II] and the work involved. In those situations where only the upper carriage or the main body needs work, the fee will be at the lower end of the price range. More often than not, the entire machine needs a complete disassembly. It is my preference to thoroughly clean everything, so the charges are usually toward the upper end of the price range. If a full restoration is needed, the cost may even be higher. If something internal is bent, out of adjustment, or broken, the entire machine usually needs a complete disassembly. What do you charge when repairing a Curta? I charge $65 per hour of my time. It seems my hours are about 90 minutes long, however, because I rarely finish in the time I originally quoted. Extended repair time is absorbed by me. What spare parts do you have? Are they expensive? I actually have many hundreds of new original Curta parts. Most are for inside the instrument, though. I use them when I do general cleaning and repairs. Outer body pieces, replacement cannisters, and external parts that are easily damaged or broken due to abuse are not generally available, although I do occasionally locate some these items. Sometimes I have to fabricate a part, or repair an item as best I can. Obviously, this takes time, and the cost is high. Parts costs are charged as the traffic will bear. I usually try to be blunt about this to the Curta owner, often telling them that a severely damaged unit is best sold as a "parts Curta". Unfortunately, I've sometimes had to tell this to someone who wanted to repair a Curta looked upon as an heirloom. What to them appears to be a minor issue actually turns out to be a major problem (e.g., a crank handle tilted downward is due to a broken main shaft). Costs for both a cleaning and typical repair is often between $150 and $250. I think the most I ever charged for a repair was about $500...there were many serious problems with the machine. Generally, when the price gets to be above $300 many people simply keep the damaged Curta as a memento. Can you replace a clearing ring? What costs are involved? Plastic clearing rings are available. I have several new ones, but I typically do not sell them separately as a spare part. Rather, I install them during a general cleaning and repair. I can modify a Curta that originally had a metal clearing ring to allow a plastic clearing ring to be used. There are special rivets for this purpose, which I have. Metal rings are more difficult to replace. As with the plastic clearing rings, I will only install a metal clearing ring during a general cleaning and repair. It takes a special tool to properly swage the rivet in place. [Editor's note: Very old Type I clearing rings were held on with a screw and nut. The nut was crimped to the screw threads below the clearing plate. Don't turn the screw! You'll break the screw and/or strip its threads!] I have only a very few new metal clearing rings for both the Type I and the Type II. I also have used metal clearing rings [that were removed from damaged Curtas] for both the Type I and the Type II. The new Type I metal clearing levers are so rare that I will only install the ones I have on very old or very special machines. The cost for a new Type I clearing ring is extremely high. The rivets needed to install a clearing ring are special too, but I do have a few. Jack's company, Timewise also manufactures a line of rally equipment for TSD competition. The units include TSD computers for running in a Computer Class, units designed for Odo Class competition, and competition and checkpoint clocks. Jack can be contacted for special-order equipment or particular modifications desired for Timewise equipment. Jack also repairs older Zeron equipment. A wide selection of sending units are available. Jack Christensen
chronos(at)comcast.net
Timewise
32 Old barn Road
Hawthorn Woods, Illinois 60047
(847) 550-5052 (evenings)
http://www.timewise.us/curta/curta.html
http://www.curta-repairs.com
---


Click here to visit: https://www.curta-schweiz.ch/
Repairs, Revisions, Cleaning, and Accessories
Curta Switzerland service center and Watchmaker's workshop & precision engineering workshop

I have been fascinated by watches since my earliest childhood. After studying at the University of Applied Sciences in Furtwangen/Germany, I worked in the watch industry for over 20 years. As a watch engineer, I was able to develop many well-known wristwatch models. My employers included IWC (International Watch. Co.) Glashütte Original, Lange & Söhne, Vulcain and Antoine Martin.

In 2015 I became self-employed and realized that there was a great need for the revision of large clocks. In addition to approx. 30 large mechanical clocks (Comtoise, pendulum clocks, grandfather clocks) , I also service pocket watches, wristwatches, music boxes and mechanical devices of all kinds every month take over Switzerland.

I am passionate about repairing mechanical movements of all kinds. Over the years I have acquired a machine park in the basement of our house, with which I can produce spare parts myself.

I was able to realize my childhood dreams: today I run a watch workshop in Switzerland, in which we offer revisions and repairs over 1,000 small and large watches as well as Curtas at very fair prices. Our workshop is located at Zurich Airport, only a 10-minute drive from Bülach. Visitors from all over the world are always welcome!

Service Curta Switzerland
Matthew Schneider
Alte Winterthurerstr. 5
CH-8180 Bülach/Switzerland
+41 44 860 00 45
E-Mail info(at)repair-workshop.ch
---
CURTA SERVICE IN ITALY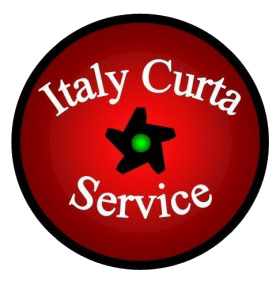 Click here to visit: www.curtaservice.it
If your Curta is damaged or if it doesn't work correctly, if it needs revising or just cleaning and you want it back working and in perfect shape, this is the right website for you. We repair, calibrate, tune, revise and clean these mechanical wonders. We have been doing this for years for a limited group of collectors, but now we have decided to start operating on an international level. You can send us your Curta and, completely free of charge, we will let you have our estimate of the costs of our service. As an alternative, we will assess the value of your Curta (whatever its condition) as a firm offer to buy it from you. If you are not willing to accept our proposals, we will send your Curta back to you, without any further cost on your part. As you have certainly noticed from our simple and essential website, we do not intend to impress anybody with special effects: we just work hard and seriously, and we guarantee the results of our work. If you need any further information or if you have any doubt or question to ask, do not hesitate to contact us: info@curtaservice.it Romano Manaresi - Ravenna, Italy, September 2010
---

o In German bookstores.
o At http://www.buchzentrum.li/Webwinkel-Product-212847644/Curta-Carena-&-Co.html for CHF 48.00 plus shipping.
o From the author ( curta(at)dsl.li ) at the reduced price of Euro 34 plus shipping costs.
The author
Hansjörg Nipp, born in 1951, retired engineer. During his active professional life he worked first in research and later as a project manager in a large Liechtenstein industrial company. For many years he has been concerned with the history of the Contina company and its products such as the famous Curta calculating machine. In 2007 he curated a highly acclaimed special exhibition at the MuseumMura about Contina and in 2009/2010 he worked as a technical advisor on the filming of the inventor portrait "Herzstark" by Kuno Bont.
---

Curt Herzstark's memoirs were written down by his partner Christine Holub after many conversations recorded on audio cassettes. Christine Holub was supported by her friends Ute Schröder, Bernd Schröder and Heinz Joss in editing this transcript with a view to publishing it as a book. The title "Kein Geschenk für den Führer - Schicksal eines begnadeten Erfinders" translates to "No Gift for the Leader - Destiny of a gifted inventor"

---

This Oughtred Society's translation of the autobiography of Curt Herzstark, the inventor of the CURTA calculator, is a must have for a CURTA collector or enthusiast. This book documents the life of Curt Herzstark, his youth in Vienna, his education and travels with his father (also an inventor of a calculating machine), his internment at the Buchenwald concentration camp, and his post-war difficulties in the production and distribution of the CURTA calculator. Additionally, appendices provided by Tom Wyman and Bob Otnes provide additional information about the use and derivation of the CURTA calculator. Many photographs are included.

English, Perfect Bound, 8½" x 11", 180 pages, 20 ounces,
$36.95 plus shipping.
Order at www.oughtred.org

---

The Curta is featured in the novel Pattern Recognition by William Gibson, where the heroine trades one of the first ever produced Curta for a valuable piece of information from a former spy who is now a collector of mechanical calculators.
---
21 remastered algorithms:
o Addition - Subtraction
o Multiplication - Division
o Division by breaking down
o Continued multiplication
o Rule of three
o Simultaneous calculations
o Square root
o Power calculation
o Pytagoras' theorem
o Area of a polygon 1
o Area of a polygon 2
o Magic numbers
o The phoenix
o Lewis Carroll's number
o The golden ratio
o Date of birth of a CURTA

High quality of realization. An essential collector for any CURTA enthusiast.

---

"Technical innovations in Liechtenstein"
The stamps were released in 2006 by The Liechtenstein Postal Service
The series' technical innovations from Liechtenstein presents "inventions that were developed in Liechtenstein and conquered the world market. In the first two series, the Curta calculator, the camera Carena, the caliper of the PAV and the Hilti Hammer, Kaiser walking mobile excavators and the heating surface aluFer were presented by the Hoval.
---
---